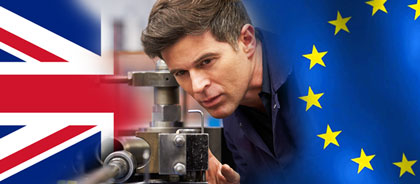 Between 2016 and 2020 the European Union (EU) plans to invest €4.7 billion in aerospace research and operational support to defence and civil aeronautical programmes throughout the EU. PMI- Media's latest market study Unforeseen consequences – Brexit and the UK's aerospace industry – available free, examines the consequences to the UK's aerospace and defence industrial base of not being able to access this funding, while the UK's industry has to cope with the complexities and uncertainties of a post-EU market.
The gravest threats come from the possibilities of the UK exiting the Galileo GNSS programme, the consequences of major UK companies such as Rolls-Royce and GKN Aerospace having to give up lead positions in the European Commission's Clean Sky research programme and UK companies having to remove themselves from the SESAR programme as airlines are about to invest in $20 billion of new SESAR-compliant airborne systems.
The new report takes a detailed look at the tough decisions facing UK government and industry as they renegotiate their roles in a wide range of long-term, EU-financed aerospace support programmes. It also examines which major aircraft programme supply chains could be most impacted. The effect of Brexit won't just be one way. More flexibility on labour costs, access to new trade agreements and more flexible forms of funding will have beneficial consequences to many UK companies. But the UK government will have its job cut out to find new ways to integrate UK aerospace into Clean Sky, SESAR and the European Space Agency's EU programmes or face a massive loss in funding and support to programmes of strategic interest to the UK.
More detailed information on the impact of Brexit on the UK will be made available in another study, a 280-page Threats and opportunities to the UK's aerospace industry of Brexit which will provide unique insight and analysis on how leaving the EU will impact individual companies. View it here. This report will be made available on 26th September 2016 and customers will also be given two free updates to the report – to be published in November 2016 and March 2017 – as companies evolve their strategies and markets change.